Launch DVDFab Passkey for Blu-ray
Double click Passkey 9, and choose Blu-ray from the welcome screen, then, click "Start DVDFab Passkey" at the bottom right corner to run it. Afterwards, Passkey will minimize itself into the system tray and detect whether there is media in your Blu-ray drive.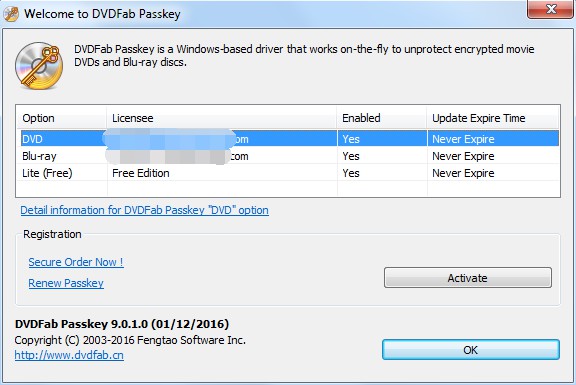 Insert the source Blu-ray, and start the Blu-ray decryption
Insert the BD you want to decrypt into the Blu-ray drive, and if there has been one in it, DVDFab Passkey will immediately begin the removal task. Only a few seconds later, all the protections (except for AACS 2.0 and Cinavia) and region code restrictions will be removed successfully. And you can get the detailed info regarding the source disc and status from the interface when you open it, including the info of the drive and what kinds of protections embedded inside it are removed.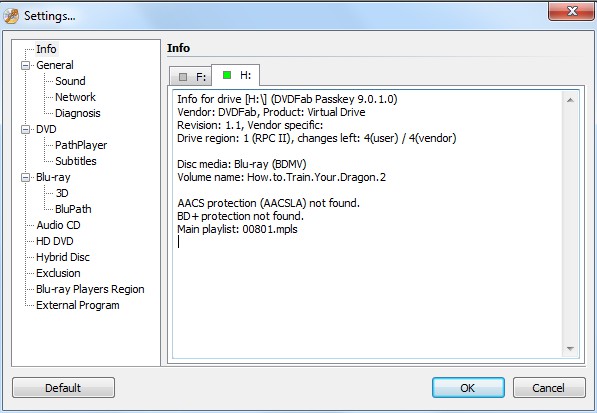 Succeeding operations
After the decryption is finished, you can play the decrypted Blu-ray with any Blu-ray player, and you can also rip it to your hard disc or image by right-clicking on the icon of DVDFab Passkey minimized into the system tray, and clicking "Rip to Hard Disk" or "Rip to Image" from the options. Then, choose the output target in the following pop-up window.

Note that if you check the textbox "Keep Protection" when you want to rip the decrypted Blu-ray to Image, you will get a copy-protected ISO image file finally.